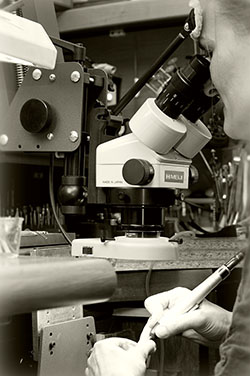 Joanna Stroinska is enthusiastic about making hand-made, intricate pieces to exact specification, with an emphasis on high standards. She does general repairs along with alterations commission, renovating jewellery and refurbishment work, as well as individual designs. Joanna has an experience of producing high quality master patterns.

Joanna is qualified and trained in the craft of goldsmithing, with a solid background in jewellery making. With passion for making jewellery for over 30 years, Joanna has experience working with Gold, Silver, Platinum and Palladium.

Joanna has finished an Individual Optical Setting Seminar in Antwerp taught by Mr Sidorov. She works with diamonds and precious stones in all types of setting.

Since 2012, Joanna is a Fellow of the Institute of Professional Goldsmiths.


Awards
Goldsmiths' Craft & Design Council
2020 - Gold Award - (2D) Design For Direct 3D Metal Printing Cooksongold Award
2017 - Gold Award - Polishers Senior

2016 - Gold Award - Polishers Senior
2016 - Silver Award - Polishers Senior

2014 - Silver Award - Smallworkers & Modelmakers Senior
2014 - Silver Award - Lapidary and Carving Senior
2014 - Silver Award - Setters Senior
2014 - Commended Award - Polishers Senior

2012 - Commended Award - 3D Technological Innovation Award
The Goldsmiths' Company Assay Office London Special Award